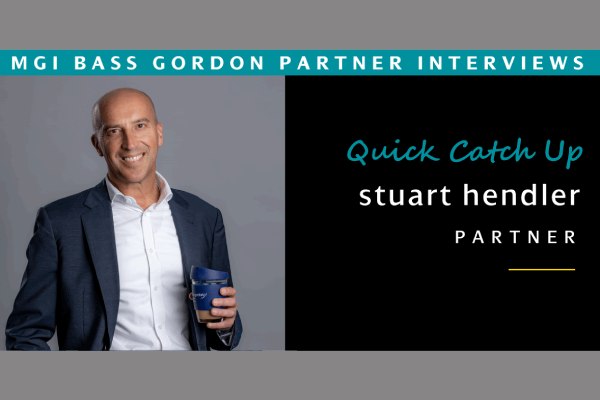 Partner by partner we bring you insights into their unique journeys of success – and how it's shaped them both personally and professionally. Today we're catching up with Stuart Hendler, our firm's leading advisory partner. Stuart led the firm as Managing Partner for the past 11 years, however earlier this year he took a step back from the day-to-day operations and stepped into the role of Chairman – focusing more on strategy and growing the advisory side of MGI Bass Gordon. When asked about success and what it means to him Stuart had the following to share:

"My core definition of success is making good decisions at critical times."
Expanding on this, we posed the following explorative questions:
What has been your greatest success at MGI Bass Gordon thus far?
Leading us through a difficult merger years ago. That and navigating the firm through COVID – facing extreme uncertainty and risk, we emerged tougher after that two-year period.
What is your top tip for doing a deal?
Be patient. Don't try to reach a result in the first meeting. Know what your outcome is, then plan carefully how to get there.
How do you handle setbacks and staff errors?
Life never follows a simple trajectory – one has to rationally take the right steps and make corrections while remaining adaptable and innovative.
How does this help you ensure you get closer to the firm's overall goals?
I believe mistakes and setbacks are simply a part of life. We must just learn from them.
What's the best book you've read and why?
Man's Search for meaning by Victor Frankl – it contains so many valuable life lessons.
Your best and worst investment decision?
Best investment is in a financial advisory business. Worst decision was not to get involved in it earlier.
What is the main thing you learn from your competition?
That there are always firms out there that offer cheaper services. And that the truest measure of a firm is the quality it delivers.
How do you approach missing the mark with a client?
I encourage my team to never shy away from responsibility or to try cover up mistakes. Honesty is our "only" policy.
What are your top three personality traits?
I'm a great listener, which builds the foundation for lasting relationships. I trust my judgement in crucial problem-solving situations. Finally, I am straightforward and honest – people always know where they stand with me.

To explore more about MGI Bass Gordon as a firm and the vast range of services we offer our clients, please visit our website.