When it comes to talent recruitment, MGI Bass Gordon's deep commitment to a caring, inclusive, and high-performance culture drives our approach. Our new recruits are inducted by Nadine van Lier and Bianca Viljoen who focus on our audit department graduate recruitment.

Because we're not afraid to do things differently, our recruitment team actively develops individual potential while offering unique opportunities for professional and personal growth in our recruits' journey to become high-achieving CAs(SA).

Get to know Nadine and Bianca in this brief interview touching on how their dynamic talent-seeking draws in exemplary candidates, ever growing our MGI Bass Gordon family.
Nadine, what brings you the most joy in your role as a talent seeker?
The opportunity to really game-change someone's life. We join some of our future trainees on their journey during their first year at university, witnessing firsthand their transition into South Africa's future leaders. What an honour to be part of this process! Hearing a candidate's excitement at the news that we're going to make them an offer remains a thrill to this day.
What three core qualities do you look for in new recruits?
Someone with true determination to qualify as a CA(SA), who embraces our values (client-centric, positive attitude, trust, and service excellence), and who is genuinely kind and caring towards their fellow man.
Why do these qualities resonate with MGI Bass Gordon's culture?
At MGI, our open-door policy encourages open communication and respect. We don't work in silos. While work is still work, we strive for an environment that is fun and supportive – a space in which our teams can thrive. Everyone is invited to contribute positively to the overall MGI experience.
Bianca, what's the most challenging aspects of your role? And how do you overcome this challenge?
Students don't always sufficiently research the differences between signing with the Big 4 and mid-tier firms, seriously underestimating the rich offering at a mid-tier firm like MGI Bass Gordon.
We overcome this challenge by engaging with aspiring CAs(SA), discussing with transparency the various opportunities open to them, highlighting the reality of differing work environments within our industry. With our heartfelt focus on work-life balance, life at MGI for trainees is stimulatingly diverse, hands-on, and personal.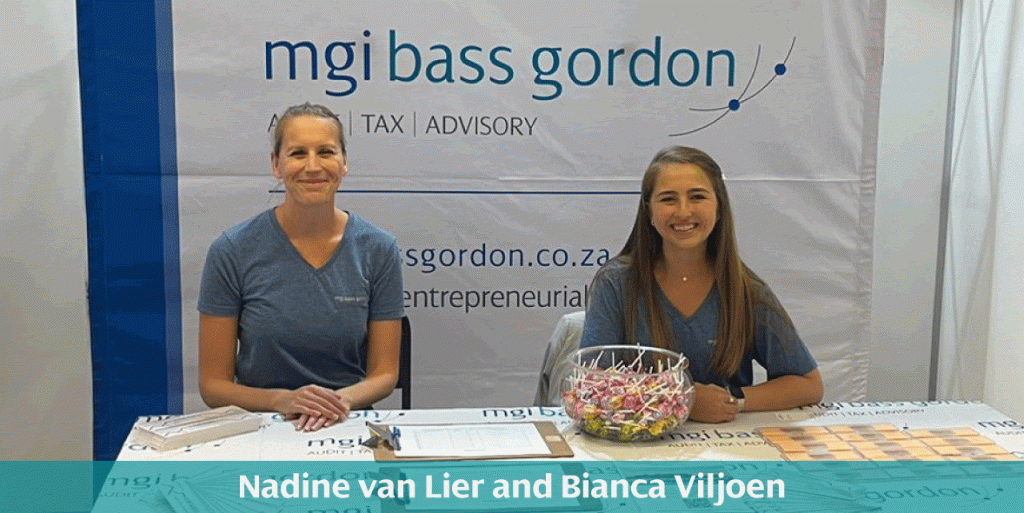 How do your recruitment initiatives benefit the company as a whole?
As MGI's talent seekers we regard this huge responsibility as a privilege. Our recruitment efforts have a knock-on effect for the whole business since our trainees work directly with team members, managers, other departments, MGI Bass Gordon partners – and ultimately our clients. You're not just a number here at the Bass, you get to bring your own personality and energy to the table.
With the current global focus on mental health for employees, how do you as a team ensure that recruits are taken care of while company productivity remains optimal?
Mental health has always been top priority at the Bass. We run a variety of mental health initiatives to assist our employees, like yearlong presentations by various wellness experts on the subject and our ongoing partnership with Cape Mental Health that features free counselling sessions for all staff. Our medical aid, CAMAF, also runs a great mental health and wellness program for all members. And of course, MGI partners are always open to chatting with staff to see how they can assist.
What, in your experience, is the number one fear for recruits joining a new company? How do you support them beyond this fear?
With years of theoretical learning but no practical experience, recruits mostly fear the unknown. At the Bass we run a month-long induction program to help trainees settle in. Assigned a personal, technical, and team mentor, they come to understand their role holistically. We also host various social events throughout the year so that trainees can interact with each other in a relaxed atmosphere.
Since your mission is "to ensure students make informed decisions rather than influenced ones", how exactly do you go about this?
Our mission is not to convince or persuade students to sign with us, but rather to find the right fit for our team. Ultimately both the company and trainee must be happy. We go about this by having transparent, informative conversations with students – about the overall experience they're hoping for and the career trajectory they desire. For example, if a student is interested in entrepreneurship and learning how successful businesses are run across various industries, then MGI is a great fit. However, should they aspire to be CEO of a bank one day, we'd encourage them to consider other firms who can better support them.
Why is MGI Bass Gordon the right home for aspiring CAs(SA)?
In summary, some of the great benefits that the Bass offers to trainees include:
Wide client-industry exposure
Hands-on contact with clients
An open-door policy & commitment to collaboration with all levels of management
Continuous learning & development opportunities with study support
A positive & supportive culture
Secondment recommendations after completion of the training contract
Our mentorship program covering technical & personal development
A modern, digital working environment
Access to mental health & wellness counsellors
Working experience within diverse teams
A solid work-life balance & flexibility of a hybrid working environment
Social events
Life in a world class city, namely, Cape Town
Because we guarantee collaboration, growth, and a very hands-on experience with clients and management, our recruits are considered equals. What we achieve at MGI Bass Gordon, we achieve together.
If you're embarking on your future career as a SAICA Chartered Accountant Trainee, don't just start anywhere – start the conversation with the #TEAMBASS Recruitment Team today: +27 21 405 8500 or check out our careers page.
#jointhebass #gradrecruitment #futureCA(SA)