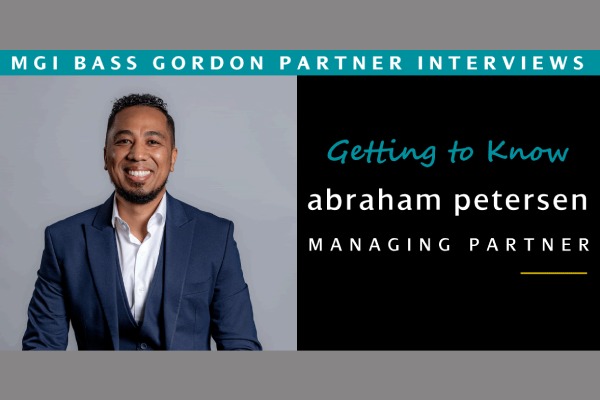 MGI Bass Gordon's definition of success extends way beyond the general dictionary description. More than just the accomplishment of an aim or purpose, for us, success is an effective way of being in the world – a holistic state of existence that positively affects the whole.
Because we measure our success by the success of our clients, you'll get to hear straight from the hearts and minds of our partners, those leaders who ultimately directly connect MGI Bass Gordon to our clients.
Today we share Abraham Petersen's success story with you. As the firm's managing partner, with demonstrated success working in the commercial accounting industry, Abraham has over twenty years' experience in supporting private company owners evolve their businesses, structure their tax affairs, and achieve personal wealth planning.
Digging deeper, we asked Abraham the following targeted questions:
How do you feel your success has directly impacted MGI's staff?
It reminds me to prioritize employee wellness and to value staff input, be it great or small. Workplace happiness is one of the key elements that contributes towards a balanced and purpose-driven life.
And how has your success impacted MGI clients?
It keeps my focus client-centric. This leads to meaningful client engagements, being confident in MGI's abilities and skills.
At MGI we also believe that success is defined by how a person handles failure. When posed the question, "How do you handle setbacks or mistakes created by your staff?", Abraham responded:
I think it's important to highlight that even though we strive for service excellence in all that we do, we are only human after all – and of course, mistakes do happen. And when they happen, I believe total honesty is required together with a clear-cut solution together with assurance that this particular mistake will never happen again.
How does navigating mistakes and failure help you ensure you get closer to your team or department's overall success?
Making mistakes is part of the learning process and is partly what defines our humanity. I believe that being engaged in honest and transparent discourse around our weaknesses helps us ensure that we are aware of our blind spots. This is a fundamental building block in our personal and professional development.
In terms of missing the mark with a client, if ever, how do you approach this challenge?
By honestly dealing with the issue as soon as it is identified – this is key to building and maintaining trust.

Looking ahead, we were curious to explore what Abraham's next big goal is:
My goal is one that is aligned with our purpose and vision as a professional services firm. In essence, I want us to build on past successes and work together as a team to deliver next-level client service which is professional, efficient, and effective.
How will you measure the success of this goal, when reached?
When we deliver on our promises and live out our values both internally to staff and externally to clients, we will experience higher levels of staff retention and efficiency as well as higher levels of client satisfaction.
Where are you headed as a business relative to the local current economic climate and turbulent world events?
I believe our firm is in a unique position to leverage off past successes and build on our specific skill sets and service offerings. We have the best people, best expertise, and the best systems to scale our business in order to facilitate the growth we envisage despite what's happening in the world.
What is the main thing you learn from your competition?
We learn that we should never be complacent and never allow the life cycle of growth to be compromised. We should always be looking for opportunities to grow, whether that be in terms of personal development, updating professional knowledge, or expanding on skills sets and service offerings. Investing in human capital and workplace satisfaction and growing our base of satisfied happy clients is paramount.
Finally, we end off with some quick-fire questions around Abraham's personal take on success:
What is your personal definition of success?
Success involves finding purpose and meaning in what you do and knowing that your purpose driven life has a positive impact on those around you and those you interact with, whether it be on a business, personal, or relational level.
How would you define success to a 5-year-old child?
Being happy with what you do, enjoying it, and feeling satisfied by it.
In terms of the way you deal with people, what do you feel your top 3 personality traits are?
I believe I have a strong sense of empathy, I exercise sound judgement, and always try to be a solution-finder.
How do you celebrate your successes?
The most fulfilling way to celebrate any success in my life, is to celebrate it with those who understand my journey and have played a role in bringing about that success. This means valuing and cherishing the support of loved ones, friends, business partners, and clients alike. Value is found in and should be appreciated from all these different perspectives.
To explore more about MGI Bass Gordon as a firm and the vast range of services we offer our clients, please visit our website.